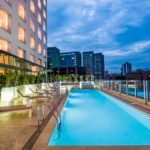 Here's how Medellín hotels are stepping up their game to accommodate the surge of travelers.
With remote working quickly becoming the new normal, more people have the exciting opportunity to live the digital nomad lifestyle than ever before.
With its diverse geography, modern infrastructure, low cost of living, and welcoming locals, Colombia is drawing newcomers from all over the world.