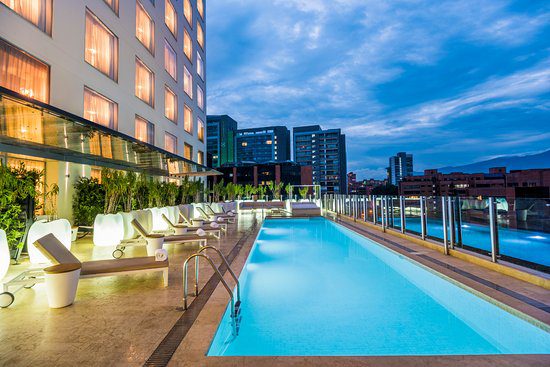 Here's how Medellín hotels are stepping up their game to accommodate the surge of travelers.
Until recently, Medellín didn't have much to offer in the way of lifestyle or boutique hotels.
For years, the city's best hotel was the Dann Carlton: a traditional hotel in the popular neighborhood of El Poblado. A reliable if expected accommodation choice, Dann Carlton Medellín offers your basic suites, pool, spa, and onsite restaurants.
But as Colombia grew into a top international destination and tourism in Medellín surged, the city's hotel scene began to evolve to fit the needs of its new cosmopolitan visitors.
First came The Charlee, a self-described lifestyle hotel overlooking Parque Lleras in Medellín's "Zona Rosa," or nightlife zone. The impressive 18-story hotel has a massive health club and spa, a rooftop nightclub with a swimming pool, and an art gallery. All rooms feature retro-style chandeliers and furniture, and some rooms have a hydromassage tub with dazzling city views.
Then, in late 2019, came the Click Clack Hotel, the second property of a stylish Colombian hotel chain. Geared towards trendy travelers, the hotel features 123 guest rooms featuring balconies, gardens, and terraces with tropical greens. In the outdoor lobby, the hotel has an art gallery, shops, and restaurants serving up fresh, local, and sustainable cuisine. On the roof, the Click Clack includes two bars and a pool with uninterrupted mountain views.
In the not-too-distant future, the Charlee and Click Clack are expected to be joined by JO&JOE—an innovative international hybrid hotel-hostel chain set to open its first Medellín location in 2020. Seeking to blend the camaraderie of a hostel with the luxury of a hotel, JO&JOE offers a variety of lodging styles, including private hotel-style rooms and shared group bedrooms. To promote cultural exchange and coexistence, the hotel features indoor and outdoor common areas designed with eco-friendly materials and sustainable furniture.
5 Ways Millennials Are Impacting the Hotel Industry Around the World
The rise of lifestyle hotels in Medellín aligns the industry-wide shift away from cookie-cutter hotels towards a new style of accommodation tailored to millennials and other like-minded travelers. Millennials—the generation born between 1980 and 1996—are the world's largest living generation and make up an estimated 50 percent of the world's hotel guests.
Digitally savvy and connected, millennials are perhaps the most powerful and influential consumer group in history. In Medellín and around the world, hotels are transforming to meet their needs. Here are five trends the hotel industry is embracing to target millennials both locally and globally:
Meaningful experiences
Millennials crave meaningful travel experiences, with 78 percent preferring experiences over material things and 69 percent believing that experiences make them more connected with other people, their community, and the world.
The demand for one-of-a-kind, Instagrammable experiences has driven the industry to develop its hotels to be more personalized, immersive, and attuned to the local culture. An excellent example in Medellín is the Charlee, which encourages interaction between locals and travelers in its world-class fitness center and hosts memorable nights in its bumping rooftop nightclub.
Sustainability
Millennials are arguably the most concerned generation when it comes to climate change and environmental issues. In Medellín and around the world, hotels are placing more emphasis on environmentally friendly offerings.
For instance, the Click Clack proudly follows FLOSS (fresh, local, organic, seasonable, and sustainable) principles in its kitchens. The hotel's onsite restaurants and cafés serve up locally grown ingredients amid leafy, green surroundings. Similarly, the JO&JOE project prides itself on using eco-friendly raw materials and carefully monitoring its level of environmental impact.
Improved technology
When it comes to travel and accommodation, millennials expect technology to make their lives and the travel process easier.
In response, hotels are equipping spaces with smart technologies and offering round-the-clock connectivity. Not only do modern Medellín hotels come with free, fast-speed WiFi and smart TVs, but many have been getting creative with technological perks—like the Click Clack's in-room smart device that connects guests with 24-hour reception and room service.
Shared spaces
Millennials have been called the "loneliest generation," with 30 percent admitting to always or often feeling lonely. Collective workspaces and common areas with WiFi access are a key feature for millennials working remotely or pursuing solo entrepreneurship.
Hotels are increasingly offering communal rooms, coworking spaces, and shared living spaces to foster camaraderie among travelers. JO&JOE is a prime example, with its abundance of common areas and shared bedrooms option.
Health & wellness offerings
Millennials value health and wellness, eating healthier, and exercising more than past generations. Increasingly, travelers see vacations as an opportunity to nurture their mental and physical well-being.
As a result, hotels are weaving wellness into the heart of their experience. Take the Charlee, with its three-story Ultra Wellness Center Gym facility. The state-of-the-art fitness center is free to guests and features semi-personalized training and group classes.
Millennials have had one of the greatest impacts on the travel and hotel industry in Medellín and around the world. The changes they've driven have also benefited past generations and set the stage for even more tech-centric generations in the future.
To remain competitive, Medellín's hotels and vacation rentals will have to evolve with the growing millennial generation and its changing needs. The winners in the local accommodation market will ultimately be the ones who can deliver meaningful experiences, sustainability-focused design, advanced technology, communal living options, and health and wellness services under one roof.